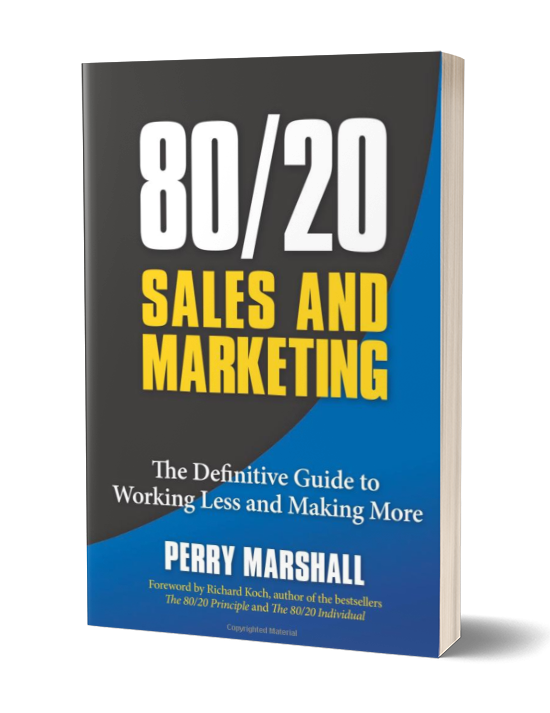 Purchase on Amazon
Copy summary to your Evernote
Chapters Links
Summary Text
Chapter 1: How 80/20 Works and Why
80/20 and 80/20 squared are true of almost anything you can measure in a business, meaning 80% of your revenue will come from 20% of your customers. And of those 20%, 80% of those will come from just 4% of your overall customers. It also works cubed.
Sources of incoming phone calls, effectiveness of salespeople, sales to customers, physical location of customers, popularity of products, advertising waste and effectiveness, productivity of web pages, reasons customers buy.
Shift your business thinking – business is not about increments; it's about the Richter scale and powers of 10.
Pareto summary
The real power of 80/20 is 80/202, 80/203, and so on. It keeps going until you run out of things to count.
80/20 applies to everything in the world that has positive feedback, from the income of 7 billion people to the Forbes 400.
Almost everyone talks about average, but average equals mediocrity. The 80/20 power curve is about results.
Top performers are not twice as good as average performers. Thye are more like 100 times better.
Everything that really matters in business isn't linear, it's exponential. 80/20 is about power laws. Powers of 10. Always think in multiples of 10.
Chapter 2: Racking The Shotgun
Send 1 calculated signal that most ignore, but a few respond.
That move, someone else might make it, you just have to then watch.
This separates that 80% from the 20%.
Before spending precious time/money on any sales, marketing, or business endeavor, you need to rack the shotgun.
People are self-identifying as the right targets or the wrong targets for you 24 hours a day.
It's not just about customers; it's about everything that makes money change hands: product lines you choose to sell, web pages you optimize, systems, etc.
Pareto Summary
"Rack the shotgun" means triggering your audience and seeing who responds.
Before betting time/money, must rack the shotgun.
Chapter 3: You Can Do Better
If you can spend 80 percent of your time in front of the right people, you can triple your income.
Direct marketing, if he spent his time and money on racking the shotgun and paying attention to whose head whipped around, and rejected cold calling, he'd
Spend far more time having actual conversations with qualified prospects
They'd respect him much more
Laser focus on prospects that already understand what you do, have problems you can solve, and believe in your way of solving them.
Pareto Summary
80/20 applies to almost everything in business that you can count.
Almost every frustration you have in sales has something to do with ignoring 80/20.
Chapter 4: 80/20 Traffic, Where you go to get Customers
A company he visited as a salesman was educating their customers with a book, and advertise it and give it away.
It was a "lead generator".
Whoever requested it, from their site or at shows, was a lead. They were racking the shotgun.
Got to have a mechanism for turning publicity into a sales funnel.
Like a conveyor belt that moves everything forward.
7 Cardinal Rules Of An 80/20 Sales Pro
No cold calling. Ever. Attempt to sell to only warm leads.
Before you try to sell anything, you must know how much you're willing to pay to get a new customer.
A prospect who "finds" you first is much more likely to buy from you than if you find him.
You'll dramatically enhance your credibility as a salesperson by authoring, speaking, and publishing quality information.
Generate leads with information about solving problems, not information about the product itself.
You can attain the best negotiating position with customers only when your marketing generates "deal flow" that exceeds your capacity.
The most valuable asset you own is a well-maintained customer database, because people who've already bought from you are way easier to sell to than strangers.
As a marketer or salesperson, you must thoroughly master at least one form of advertising media. Until you do, you'll be at the mercy of whatever comes along.
Pareto summary
Cold calling is dead. You should only talk to prospects who are genuinely interested in what you have to sell.
Don't use shoe leather and cold calling to generate leads. Think positioning, not prospecting.
Chapter 5: How to Use the "Invisible Money" Finder at www.8020curve.com
Don't picture a single marketing problem without this tool in mind.
http://www.8020curve.com/
If you don't offer a higher ticket item (with commensurate value) for the smaller number of customers, they will go somewhere else to get it.
One of your highest aspirations as a marketer is craft endlessly irresistible offers, such that people spend a disproportionate amount of money with you.
Almost everybody has at least one passion, one interest, one obsession where they'll gleefully spend irrational amounts of money.
Wherever there are rabid, obsessive customers, there's a great business
80/20 is everywhere you look; you can't do anything about it because it's a law of nature.
all you can do is decide if you want to let it work for you or against you.
Pareto Summary
The 80/20 power curve is the most important chart in any business
The power curve is true whether you're looking at 10 people or 10 billion.
You can punch what you know into the above link, and it will either report a bunch of other numbers that ARE true in your business or else WILL BE TRUE once you've maximized every opportunity.
Your top job as an 80/20 marketing professional is to move resources from the left to the right of the curve. (Offering bigger opportunities).
Chapter 6: Simplify Your Life With the Power Triangle
Traffic and Conversion and Economics with 80/20 in the center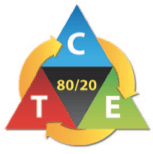 80/20 is in the center since there are multiple layers of 80/20, and within each piece of the triangle.
Four questions to ask for Marketing 101:
Who would buy this (that's T)
What can we say to persuade them to buy (that's C)
Can you reach them affordably (that's E)
Can they give you money? (that's E)
The next thing to notice is you need to go counterclockwise to decide how to sell something
So the primary skill you must master in marketing is thinking backward
Think like the client, not you.
Begin with the end in mind – you start at the end and work your way backward
Advanced marketers don't start with the invention – they start with "What would people buy". Then create it or find it.
And there's a power triangle in each element of the Triangle
Assume Traffic = google ads; Conversion = go to your sales page; Economics = sell shoes

Inside Google ads: Traffic = People seeing the ad, deciding it's appealing, then clicking on the ad.

Assume your visitors land on a page that offers a white paper in exchange for name and email

Traffic = people who land on your page, Conversion = people who opt in and the reasons they did, Economics = What they git in exchange for that email address, and it's value to you.
Every move you make comes down to
The core essence of marketing is how much you are willing to pay to acquire a customer.
Capitalize on the willingness of the top shelf customer to spend money.
Do up-sells, cross-sells, and sell 'em something else.
Sell results, not procedures.
Don't sell parts; sell complete packages that simply and elegantly solve the total problem with as little fuss as possible.
Imagine what your customers would happily part money for.
Sales is a disqualification process! The more junk you can eliminate before you spend money and effort, the more effective you are.
Pareto Summary
Everything in sales and marketing is summed up in the Power triangle: Traffic, Conversion, Economics, and 80/20.
Traffic comes first, then conversions, then economics, but great marketers think backwards, which means starting with economics.
There are 2 sides to economics: the money you get, and the value customers get in exchange for the money.
The simplest, easiest way to get leads is to buy or rent a list. The quality of lists obeys 80/20 – most are lousy; a small fraction are great
The most valuable asset you own is the customer list you build yourself.
Chapter 7: 80/20 Conversion: Now that you've Racked the Shotgun, Make 'em MOVE
With a list, most people dive right into persuasion an salesmanship; that's a mistake
Because even after you've stimulated interest and positioned yourself properly, another step is needed before you try to convince anybody of anything:
You must DISQUALIFY people who don't fit.

Sales is NOT a "convincing people" process!
The 5 power Disqualifiers
Do they have the money?
Do they have a bleeding neck? A dire sense of urgency, an immediate problem that needs attention. Right now. It should be:
Pain & great inconvenience, loss of money, threat of loss and/or
some craving for pleasure that borders on the irrational.
Before you ease the pain, you have to intensify it.
Do they buy into your USP? It's your unique answer to these questions
What does your product do that nobody else's product does?
Why should I buy from you instead of anybody else?
What guarantee can you make that nobody else can make?
And remember, your USP must constantly be improving
Do they have the ability to say YES?
Helga the receptionist can say no, but she can't say yes.
Does what you sell fit in with their overall plans?
If your service requires major brain surgery on the part of the customer, he ain't gonna take your offer unless brain surgery is a lot less painful than the alternative.
The most important thing of these 5?
Plow thru them as fast as possible.
If you're talking to your prospect on the phone, you need to start with your USP.
Include as many power disqualifies as possible
Get straight to the point and no corporate MBA speak.
For copywriting, you can go through the above disqualifiers
Headline starts with their bleeding neck and offers a benefit statement
Emotionally connect with them – offer a page of your diary that will look a lot like their diary
Add pain and suffering (agitate)
Note: headlines, italics, highlights, and bold emphasize the most important 20 percent for people who are skimming.
For do they have the money, charge a few bucks for shipping/handling – it will eliminate tire kickers but not eliminate that many buyers.
Add a call to action.
As long as you're reading a page in their own diary and speaking to them about the most painful things in their life, you're racking the shotgun.
Pareto Summary
Five Power Disqualifiers are

Do they have the money?
Do they have a bleeding neck – an urgent problem that must be solved now?
Do they buy into your USP?
Do they have the ability to say YES?
Does what you sell fit into their overall plans?
Headline Test: If your headline were a classified ad, would it make the phone ring? Don't focus on your product – focus on the urgent problem, the bleeding neck.
Best sales formula ever: Problem – Agitate – Solve. Most people don't spend enough time on the "Agitate" part.
 Chapter 8: Your USP (see cheat sheet also attached)
Four questions your USP Can and Should Answer
Why Should I listen to you?
Why should I do business with you instead of anybody and everybody else?
What can your product do for me that no other product can do?
What can you guarantee me that nobody else can guarantee?
What can you make unique about you?
Guaranteed friendliness, delivery, live person on the phone.

Market you serve is unique

like your focus is businesses with 10 employees or less

Product is unique

It has a guaranteed result. It's tailor-made for X kind of person. Using it is a guaranteed "experience".

Entire experience is unique

A cab/limo driver promises hot Starbucks coffee.

Your price is unique

Could be low, or it could carry a premium price.
There are guaranteed add-ons that other competitors don't offer at your price.
Each Product you sell should have it's own USP, but you can have a personal USP that stands distinct from your product or business.
It's the inherent groove based on your passion, personality, and experiences that you carry with you at all times.
If you want to be a successful marketer:
Put yourself in a position where you get paid to practice, even if it's only a modest amount of money

Learn to love repeating even basic things over and over again until you achieve perfection

Don't fall in love with bright shiny objects; fall in love with mastery.
Master some aspect of marketing or sales that you naturally love and excel at – harnessing the natural forces of who you are.
Pareto Summary
Most important thing in marketing is a USP
Your business USP is an extension of your personal USP
Chapter 9: It's Not Failure. It's Testing.
Whenever you have something in your sales funnel that's not working, just break it down into pieces and make the 1st piece work.
Look at it as an experiment that didn't work.
If you can't sell a product, see if you can give it away. Or part of it. If they won't take the free item, find out why.
Split test every stage in the purchase pipeline
Pareto Summary
Your first few hundred dollars of PPC advertising is pure education money. You hone your marketing chops.
If you want to fix a sales funnel, break it into pieces and fix the pieces.
Secret to everything is split testing
Improvements in segments of sales funnels multiply. 2x on each of four stages leads to 16x overall!
 Chapter 10: Scale Up – Massively
How fast can you go from zero to dominating a market? As fast as you can split test.
Secret of banner ads? Test 50 ads. One of them's going to be a crazy winner. So you write 50 ads, and one will produce as much as the other 49 put together.
To get a world class sales funnel:
You have an ad, it gets a certain click thru rate.
Test two ads against each other, and choose the winner
Do this for several weeks to improve your CTR. By now you've gotten a bunch of visitors.
Note the percentages that convert on your optin page to get whatever it is you're offering, and start split testing different optin pages, trying a new headline or changing bullets.
Do this for several weeks until you double your optin rate, or even more.
Now count the people that go from the sales page to the order page. Start testing different sales pages.
Now count the people that go from the order form to actually ordering. Start testing different ordering forms. 10 percent here is reasonable.
You can also start testing different price points, multiple offers, and upsells.
As for perfection: 80/20 inherently means that "good enough is good enough." When you embrace 80/20 there's always going to be some unfinished detail. Sometimes this will bother you
But do you want perfection, or success?
There will always be something in your success formula that demands perfection.
You can become successful and even famous by achieving perfection in one tiny corner of your world. And everything else just needs to be "good enough".
Accept imperfection and move on to higher value tasks.
To see if Facebook is right for you, go to isFBforme.com. But generally, get google adwords or FB advertising right before doing anything else.
High scores on FB are businesses that sell entertainment, tribal identity, experiences, and escapism.

Fiction books, music groups, movies, spirituality, local hangouts, aspirations, political causes, and travel generally perform will on FB.
But how you expand: start with the place of highest leverage (people don't buy brake pads on FB) and test with consistent traffic, which is highly targeted paid advertising. And expand from there.
Pareto Summary
You can optimize most of your sales funnel by optimizing a handful of vitally important web pages. The rest can just be "good enough", at least for now.
The expanding universe theory of market domination says you build out your advertising strategy in this order:
Paid search engine traffic
email and affiliates
social media
offline media
How you prioritize social media varies hugely depending on the type of business you're in. Get your "Social Media Compatibility Score" at www.isFBforme.com
Chapter 11: Expand, Diversify, and Conquer Planet Earth
Expanding Universe: small, highly targeted audiences are on the right; large mass markets are on the left.
The Y axis measures focus and efficiency.
You should always move right to left.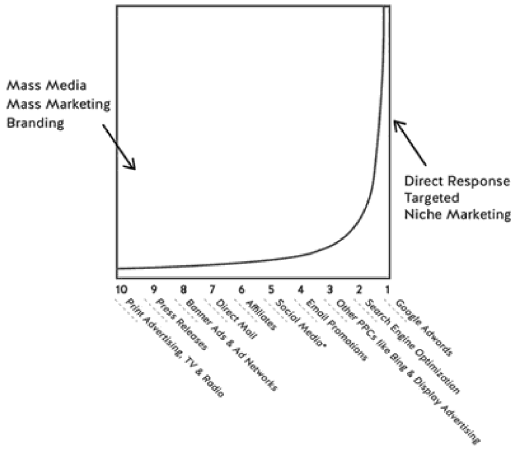 Countless startups have gone to early graves because they tried to "get their name out there." They failed because they got egocentric and put branding and exposure ahead of building a solid, reliable sales funnel.
You never want your sales partners to be blind test subjects for your experiments. Friends come and go but enemies accumulate.
Do your experiments with paid traffic first. Then verify it with email promotions and inclusions in e-zines. Then take to your affiliates.
When people naturally get well-paid for sending you customers, you'll get customers from all kinds of diverse sources.
All you're going to do is split-test a couple of things at each step of the process, one time per month.
One more AdWords ad, one tweak to the opt-in page, one new version of the sales letter, and one version of the order form.
Half the time, the contender isn't an improvement at all. But that's OK, because you still get multiplied improvement, and over time, your sales multiply!
Pareto Summary
Unlimited traffic technique: When you have the best conversion rate in your niche, you can buy all the traffic from everybody.
You should test your sales funnel yourself before you ask anyone else to sell it.
Sometimes it's to your advantage to spin off other brands and add new USPs to the marketplace.
Chapter 12. Do-It-Yourself Tranquilizers that Bring Peace of Mind
Economics: it's 80/20 all the way up and down.
Memorize this handy rule: 80/20 says 20 percent of the people will spend 4 times the money. And 4 percent of the people will spend 16 times the money.
Power curve shows you the almost limitless capacity of the top 1 percent.
Hotels have $1200 per night suites on the top floor. A tiny $1million charity will most likely get $100K of its donations from one single trust, foundation, or individual donor.
The Principle of the $2700 Expresso Machine
If 1000 people walk into a Starbucks, and the least anyone spends is $1.40 on a coffee, the 8020curve.com shows that the number 1 custom WANTS to spend $537!

If you're not offering your clients the opportunity to spend more money with you, you're missing out on a lot of money.
(And the same holds true on the low end…and not allowing people to enter your pipeline)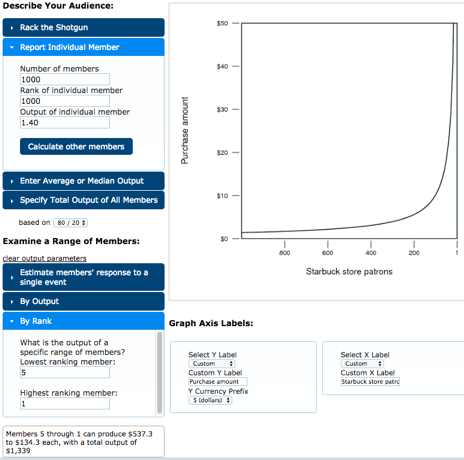 When you look at your past buyers, the Power Curve appeals to:
Repeat buys: of the people who buy more than once, 20 percent of them are responsible for 80 percent of the repeat purchases
Money, Quantity, Diversity of your products.
The principle of the $2700 expresso machine applies to almost anything you choose to sell
If you sell just one book or something for $29, you're leaving buckets of money on the table
Because if you scratch one narrow itch on some super-specific topic, the intensity of that itch and the propensity to spend money to scratch it is easily 100:1.
Selling that one book was merely a way to attract a long-term customer.
You can't sell the same cup of coffee for $1 to some and $10 to others. But the point of the Power Curve is if coffee is the itch, the range of expense they'll go to scratch it is huge.
The initial $1 cup of coffee is a rack-the-shotgun exercise.
80/20 says if 10 people will pay $1 for a cup of coffee, two of the 10 will pay $4 for a better cup of coffee. (assuming they see it as "just as good a deal".)
The core question people ask when they pay money is "What problem can you solve that nobody else can solve?"
Starbucks transformed hokum coffee into an experience
Any business can be transformed this way – a "gourmet" version is always possible.
Pareto Summary
At any given price point, 20 percent of the people will spend 4x the money.
8020curve.com shows you the "propensity to buy" in your customer base, even if you have data on only one single product.
Expresso Machine Principle says that a business based on many small transactions can make just as much money from a few large transactions.
Most businesses are leaving all kinds of money on the table, and the power curve shows you where it is.
Chapter 13: Power Guarantees
If it doesn't make your stomach churn, it's probably not an awesome guarantee.
if you won't take the risk and stand behind your product, why should the customer do that?

Because he's essentially doing that by buying it from you.
Master Formula for a Power USP
If you are ____ (qualifying type of customer or company) and if you ____ (commit X dollars and follow steps Y and Z), then you will achieve ____ (specific results) or else ____ (penalty to me, your vendor).
Sell results, not procedures.
Any time you want to figure out how to get more money for what you sell, ask yourself this question:
"How do I make what I give my customer more of a finished result and less of a procedure?"
Pareto Summary
The essence of getting more money for what you sell is "Sell results, not procedures."
If you want to command higher prices than anyone else, then guarantee better results than anyone else.
If you're selling for a company that lacks the will or ability to guarantee results, get yourself a different job.
Master formula for a Power USP:
If you are ____ (qualifying type of customer or company) and if you ____ (commit X dollars and follow steps Y and Z), then you will achieve ____ (specific results) or else ____ (penalty to me, your vendor).
A Power USP makes every high-end sale a takeaway sale, which means customers are chasing you – you're not chasing them.
Chapter 14: 80/20 = Harnessing Natural Forces
Positive feedback is when past action reinforces future action in the same direction. (Reinforcement)
A 14 year old boy take his first drink of Jack Daniels and likes it. 30 years and 10,000 drinks later, he's an alcoholic.
An 11 year old girl gets a standing ovation at her piano recital. She drinks in the applause and 25 years later she plays a symphony at Lincoln center in Manhattan.
Negative feedback corrects errors, like a missile guidance system. (Correction)
Positive feedback is the root cause of chaos.
Just as water transforms a slight indentation into the Grand Canyon, 80/20 amplifies your own power.
When you zoom in or zoom out 10X, 100X, and 1000X, you see the same pattern over and over.
A tiny puddle of water on concrete looks very similar to the edge of a lake, even though the lake is 10,000 times bigger.
Positive Feedback is Pheonminally Powerful
Turning up a PA system too loud or putting a mic too close to a speaker, the energy grows exponentially
There's a threshold that once you go over it slightly or under it slightly, it makes all the difference

It's a leverage point in the system, a place where tiny effort generates a big result.
You get good at 80/20 by learning to identify the leverage points.
Pareto Summary
Any time you have positive feedback, you get 80/20 behavior
80/20 is about harnessing natural forces. The same laws that make rivers, canyons, and sand dunes will also help you sell more and make more, if you let them. Wherever possible, let nature amplify your efforts by leveraging positive feedback and the patterns it creates.
Rewarding people over time is just as powerful as water flowing on rock.
Chapter 15: Do You Wanna Make $10 Per Hour? Or $100, $1000, or $10000?
By looking at the power curve and using hours or minutes as the "people" on the x axis, and plugging in total output of 8 times the dollar amount per hour, it shows the most valuable hour of your day is very high, and least relatively low.
Expand that to minutes, and say for $20/hr of wages, the most valuable minute is worth $15.49, and the least valuable is 7.6 cents!
All of this means we MUST work towards getting to the most valuable minutes/hours of our day
Not that we can work that hard each minute, but so that we can only work 1 day a week!
Must focus on the activities that are most valuable and getting a lower paid person to the the lower value activities.

Move yourself from the left to the right, climbing the curve continually.
There's a great list of tasks
| | | | |
| --- | --- | --- | --- |
| $10 per hour | $100 per hour | $1000 per hour | $10000 per hour |
| Running errands | Solving a problem for a prospective or existing customer | Planning and prioritizing your day | Improving your USP |
| Talking to unqualified prospects | Talking to a qualified prospect | Negotiating with a qualified prospect | Creating new and better offers |
| Cold-calling (of any variety) | Writing an email to prospects or customers | Building your sales funnel | Repositioning your message and position |
| Building and fixing stuff on your website | Creating marketing tests and experiments | Judging marketing tests and experiments | Executing "bolt from the blue" brilliant ideas |
| Doing expense reports | Managing pay per click campaigns | Creating pay per click campaigns | Negotiating major deals |
| Working "social media" the way most people do it | Doing social media well (this is rare) | Doing social media with extreme competence (this is very rare) | Selling to high-value customers and groups |
| Cleaning, sorting | Outsourcing simple tasks | Delegating complex tasks | Selecting team members |
| Attending meetings | Customer follow up | Writing sales copy | Public speaking |
| Driving to meetings | | | Establishing values and culture |
| Driving to meetings | | | |
| Performing basic customer service | | | |
| Spelling everything perfectly | | | |
If you're just starting out, seriously get someone to do household tasks like washing clothes, cooking, cleaning, shopping, putting gas in the car.
As soon as you get ANY traction, hand off those tasks to someone else
Begin every day with a question: "What items on my to-do list can I hand off to my personal assistant?"
It seems very strange to have someone coming over to your house, doing stuff that your mother used to pay your allowance for. It may go against everything you're taught.
The only way to ever do your big contributions is by shedding a whole bunch of utterly forgettable, trivial, uninteresting tasks.
Somebody will WANT that job.
Pareto Summary
When you apply the Power Curve to time, you see that even a $20-per-hour person is worth $1,000 per hour at least one minute of every day
Your job, in managing your time, is to climb the Power Curve
As you climb the Power Curve, bigger opportunities always show up.
Divide everything you do into $10, $100, $1000 per hour tasks
As fast as possible, hire out the $10 per hour tasks to others. Eventually you'll be delegating $100 per hour tasks too.
Remember, basic household jobs are far easier to outsource than complex business tasks
Chapter 16: Make $1000 Per Hour Doing What You Love
It's not actually that hard to be worth $100/hr. You just need to get competent. But to be worth $1,000 or $10,000 per hour, you must be excellent
You can only be excellent in so many areas. You need to build your excellence in the $1K or $10K per hour jobs, not the $10 per hour juobs.
Take the Marketing DNA test to see how you most naturally persuade.
Persuasion happens in many different ways, and the idea is to persuade in the way that is natural for you.
One person can't cover all the marketing bases, so do this:
Invest heavily in building your strongest skills
Find other people to do everything else.
The test recognizes that everyone has to sell some time or another.
It's not whether you need to persuade, it's a question of how you persuade, and you might as well persuade in a way that is most natural for you.
Unique Capability Survey
Email 5 friends and say "Hi, I'm taking Perry Marshall's productivity course. You know me well, and on of the assignments is to ask:

What is my unique capability?
What do I naturally do better than most people?
Please reply back to me with any thoughts you have. This really means a lot to me. Thanks.

Then when you get responses back

What talents did ALL of your friends mention?
What talents did most of the mention?
What talents did at least 2 of them mention?

This exercise indicates what you should be doing every day.
Your UCS with some other tools, should help you form you LOVE LIST.
You also need a HATE LIST

Things you don't enjoy, you're not good at, drag you down, confuse you, waste time, embarrass you.
Then give someone else a job to do it.
Pareto Summary
Score yourself with the Markeitng DNA test. Get free access at www.perrymarshall.com/8020supplement/.
Email 5 people you know well, and ask them what your Unique Capability is.
Develop your Love List and Hate List, and remember, anything you hate to do, someone else loves doing it.
Chapter 17: 80/20 Hiring and Outsourcing
80/20 rule applies to hiring – never assume you can find serious talent without serious disqualification.
You want the top 4 percent, top 1 percent players.
Fiver is the fastest way to rack the shotgun
You can spend $100, hand out micro projects to 20 people in one hour, and withing a few days you've auditioned 20 people win an almost foolproof indication of how good they are.
He posted a couple of jobs on his site, and added a $25 application fee. It weeded out people who didn't think they could win.
Then he created auditions and said they had a week to perform. it was easy to hire after that.
Pareto Summary
Since 80/20 applies to salespeople, you want to sort through them as fast as possible
Bring them on board on a trial basis before hiring them.
Hiring should be an audition, not an interview.
You can get all kinds of good online help, but you must rack the shotgun to screen out the bad ones.
Chapter 18: How to Get More $1000/hr Work Done with a Personal Assistant
The easiest way to get a fast productivity boost is to hire someone who's job is to do "anything I don't want to do."
Anyone who's time is worth $30 an hour more should consider this.
The PA can hire other people
"Don't bring me questions – bring me answers!"
Method to hiring someone – a sales funnel in reverse, and they have to sell you:
Advertise and ask them to write a letter in MS Word, explaining why we should hire you. Don't send a resume. Email it to [email protected]

Anyone who violates this is immediately disqualified, even if they send you their resume.

Then tell them to call you at a specific time, say 10:15 am on Tuesday

if they call at 10:22, they are disqualified

If the phone interview goes well, do an in person interview
Give them a Marketing DNA test which will tell you their biases towards communication, and it's best if you and the PA don't have the same work style.
Give them a preliminary assignment.
If they pass that, hire on a trial basis, for 2 weeks.
It's normal to feel uncomfortable and even guilty about making other people do stuff you could do. But it's the only way to outgrow the limitations of your time constraints.
It's OK to only do stuff you want to do! It's OK to take a vacation day while your employees work for you.
If you do this right, you will discover that an entire ecosystem has been built around you, and it's possible because you have created space where you can do several hours of $1,000/hour work every single day.
Most people's quantum leaps in business are closely associated with making these kinds of changes – not just marketing breakthroughs but breakthroughs in delegation
Pareto Summary
Everyone who makes more than $30 per hour should have a Personal Assistant. Even if you're an employee, you should hire one out of your own pocket. You'll come out way ahead.
Your PA can do just about anything for you and easily save you 10 hours per week.
You'll probably have to try out a few people before you find a good match.
Make sure the person you hire respects confidentiality and doesn't have "boundary issues" with you.
A high power PA will become one of your most mission-critical team members.
Chapter 19: Fire the Bottom 10 Percent!
One of the best ways to move energy and resources from the bottom of the Power Curve to the top is to fire a customer.
You don't have to be rude about it, just say "we've reviewed our accounts, and it just doesn't make sense for us to do business anymore."
Fire the bottom 10 percent
Nobody benefits when you or I subsidize incompetence and sloppy standards.
The pursuit of excellence and quality, and the keeping of promises and deadlines, are the only things that keep the civilized world humming along.
Customers expect excellence from you, your employees expect their paychecks on time, and you're going to expect the same excellence from your employees.
Now there is a place in the world for charity; but subsidizing mediocrity is not charity.
Pareto Summary
You do yourself no favors by keeping toxic customers around.
You do your employees no favors by tolerating lousy performance.
Fire your problem customers.
Fire the bottom 10 percent of your employees.
Chapter 20: 80/20 Controversy – Get famous by Polarizing your Market
80/20 says that we must always design mechanisms to sift prospects into categories:
Not interested
Mildly interested
Interested…hopefully soon
Interested right now
Extremely interested
Fascinated and transfixed
Insanely obsessed and addicted
Real profits come from levels 5, 6, 7.
The 80/20 Saddle curve shows you're really dealing with two 20 percents – people that LOVE  you, and people that HATE you

The two small, highly polarized groups control the majority of a conversation
Greatest example is politics – Republican vs Democrat
Every market has a controversy
Fastest, easiest way to become famous is to pick a side you're passionate about and start advocating.
If you want to get love and adoration from raving fans, you almost certainly need to be willing to be reviled by others.
If you aren't willing to take a stand, you're boring
The rabid 5 percent are
extremely emotional to the point of being irrational
easy to bond with by saying something deliciously insulting about the other party
there's nothing more powerful than selling against an enemy
there are two sides to every argument
the dark side of all of this is that it's hard to sell sanity and reason
the best rallying point for your own cause or position in the marketplace is strong opposition
The position you take in your industry may not be as primal as guns, but when you take that position and beat the drum, you build a powerful publicity platform.
You can harness your opponent's energy
People do things for emotional reasons, not rational, or based on facts, superior arguments, better logic.
If you can reach people at an emotional level, you can avoid having an argument in the first place
Triggering panic on the other side is the fastest way to raise your profile
How? You address the issue at a higher level
If something on your side is broken and has frequently failed, fix it properly and prove it works.
If your opponents think you're full of it, then create a demonstration, guarantee, something that PROVES what you say is true
Expose a weakness no one knows your opponent has
lay down the gauntlet by offering an award or prize.
Pareto Summary
In highly polarized markets, you have a saddle curve: two 80/20 curves mirroring each other, back to back.
The vocal minority dominate the apathetic majority
You can achieve rapid attention and stardom by triggering panic in the top 1 percent of your opposition
The only way to solve the conflict at its core is to deeply understand both sides.
Chapter 21: 80/20 Market Research in a Single Afternoon
Never go into a market unless you can write a page of your customer's diary and be so spooky-accurate that they wonder: "Hey were you spying on me?"
Ask If you could advertise on only ONE keyword phrase online, what would it be?
If you had to describe your business using only ONE search phrase, what would it be?
Get the free ecourse on google adwords at perrymarshall.com/google.
Once you know your keyword
Monitor that keyword in twitter and copy tweets which strike you as

representing significant frustrations
expressing direct benefits of a product/service especially in an emotional way
suggesting a Wish the prospect or customer might have

Gather all of those tweets
search for similar issues on youtube. Take notes.
find the highest profile blogs for your keyword and read the articles, especially the comments. Take notes.
Setup google alerts on the keyword. Take notes on what happens.
Gather all the relevant language and highlight the top 20 percent of it that seems longest, most engaged, and/or most passionate.
This is the 1st clue in identifying market gaps – hyperresposive buyers are likely to engage in social media.
Look for that one critical need that might distinguish YOU as different and better than any other competitor vying for attention on that bulls-eye keyword.

it's your point of difference and is the key component of a successful marketing strategy

You're also looking for "page of customer's diary" language you can echo back to make the sale.
Send these 3 questions to prospects, customer list, or recruit people on twitter or forums or wherever else you meet them.
The WHAT question: "What's your single most important question about <keyword>?"
The WHY question: "Why would it make a difference in your life to get a good answer for this problem or find a solution of your need?" <fill in the details afterwards>
The HOW DIFFICULT question: "How difficult has it been for you to find a good answer for the above to date?" <Not at all difficult, somewhat difficult, very difficult>
Throw the info in a spreadsheet and keep only the "very difficult" because those are the people who have the itch and can't scratch.
Throw away the short answers
What's left is your highly influential 5 to 10 percent who will actually give you money for a product that solves their problems.
Pareto Summary
It pays to answer a question in a marketplace only if it's a question that nobody else is answering
For language and questions, find it in social media. It's better for listening than talking
Google's keyword tool tells you how many people are searching for solutions.
When you solve the most urgent problems that the most responsive 5 percent are searching for, you hit pay dirt.
Chapter 22: 1,000 Things to Pay Attention to – Only Three or Four Matter Right Now
Short list of things to track are
Money In, Money Out
Click-thru rates of Google ads
Conversions of specific keywords to sales
Opt-in and lead generation pages
Sales pages and order forms
Individual traffic sources (affiliates, banner ads, email promotions)
Break your sales funnels into pieces
If your sales process doesn't work, break it up into pieces and make the pieces work

Every dimension of your sales machine has a disproportionate relationship between cause and effect
So if you have 12 keywords, 3 or 4 of them are going to bring the most traffic
If you have four products, probably one of them is going to produce the most sales
And if you have 5 steps in the sales funnel, probably only two of them will actually flip the buyer
So figure out the big squares, and make them bigger, and you can grow your business 50 percent with one tenth the effort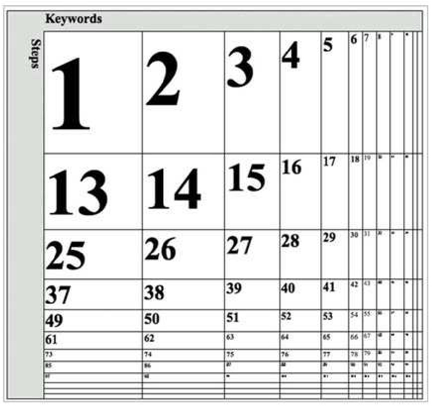 So obviously it's the big squares that deserve the attention.
For square number 1 and the other big squares, you need to measure EVERYTHING.
Example: One keyword might deserve its own landing page to track
But the point is at any one time, there are only 3-4 things you need to focus on to get your biz to the next level: keywords, pages on your site, a couple of critical steps in your sales funnel, a couple of products, one or two more key salespeople.
The other stuff matters, but it deserves a minority of your attention.
Your job is to figure out what the main thing is and keep the main thing the main thing.
So if you've tweaked everything, here are some ideas for the Next Big Thing
A super-deluxe version of your product at 4x the price.
An unmet need that nobody in your market is dealing with, and pent-up demand.
If you perform a service, sell a product that teaches 'em how to do it. If you see a how-to product, perform the service.
If you see a service, add a physical product. If you see a physical product, add a service.
If you've tapped out your existing market, take your skills into a new market.
Repackage your product or combine it with other products to create more dimensions of value.
If you sell something on a one-time basis, turn it into repeat purchases with a membership.
Pareto Summary
An time you have a complex business with lots of moving parts, you can make a simple matrix that shows you which small hinges swing big doors.
You can optimize half of your process by optimizing the most important 5 percent.
Once you've optimized Traffic and Conversion, turn your focus back to Economics.
Chapter 23: RFM: The 3-D 80/20 of Profitable Marketing
RFM
How recently has someone purchased?
How often? Which have purchased repeatedly?
How much? Which have spent the most?
To create the 3-D model, Rank customers from most recent to least recent, then in another column most frequent to least frequent, then most money to  least money.
You'll find the majority of the customers spend relatively little, seldom return, and haven't bought anything for a long time.
After you study this, you see that out of 400 customers, a few dozen are your best, and you don't just send them a letter – you send them a FedEx package or gift at christmas or their birthday.
Can get more detailed info on your customers: http://kristalytics.com/database_dna.html
Email blast to a small number of people since it's comparatively safe from spam filters, like 100 to 200 people.
Segment your list into at least six to a dozen categories according to what products or services and info/topics they're interested in.
Then your job is to come up with offers and content that match those people's wants, needs, and desires – that's what makes your list responsive.
Pareto Summary
The 80/20 of valuable customers is: Recency, Frequency, Money.
You measure: customers in, dollars in, sales out, dollars out.
You can find thousands of things to measure, test, and optimize, but at any given time, only 3 to 4 really matter.
You can grow your business 50 percent by optimizing the most important 1 percent.
Chapter 24: "My Latte's Too Foamy!"
Fact: there are some people who, no matter how hard they try, will not be able to "make it" in the hard realities that inevitably flow from the 80/20 principle.
Fact: There are some people who, without seeming to even try all that hard, make more money than they can possibly spend. 80/20 sees to it that money keeps flowing their way
You can't legislate 80/20 away or tax it away or educate it way or wish it away
You cannot fix the problem on the outside, because in the end, 80/20 still always wins. You can only fix it from the inside.
Every time you give, you make a statement of personal power of autonomy: "I am not a slave to money. Money is my slave. I believe I will always have enough, and more is coming my way."
The generous 80/20 entrepreneur focuses on the top 20 percent of his customer base, giving maximum value and extracting maximum profit. That's why he has enough money to build a school for AIDS orphans in Nairobi.
If he invested all his generosity on "average Americans" or low-value customers, or charged too little for his services and helped clients who couldn't afford his fees, he wouldn't have anything left for the weakest of the weak who really need the help.
80/20 can inform you only about physical material realities. But there are higher realities: curb your 80/20 appetites with a healthy dose of humility and spiritual sensitivity.
Know when to obey 80/20 and when to flagrantly defy it.
Ideas are the basis of all creative acts
Thus the most important resources for modern alchemists – you and me – are knowledge, imagination, and inspiration
You can't change the 80/20 power curve, but you can push the whole thing upward.
Today, people at the poverty level enjoy more comforts than kings and queens of long ago.
True Marketing Maniacs and Economic Alchemists generate powerful ideas everywhere they go.
Pareto Summary
Life for the bottom 20 percent is harsh
80/20 taken to a ridiculous extreme is mercenary. No one likes living in a Darwinian world.
Equality is a higher, spiritual value.
Charity is an inside job
The place you earn in the top 5 percent is an opportunity to be generous to the bottom 20 percent.