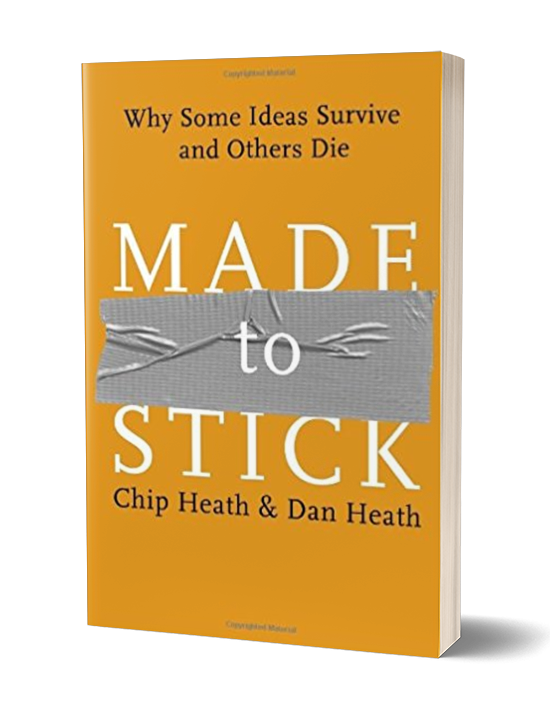 Purchase on Amazon
Copy summary to your Evernote
Chapters Links
Summary Text

Introduction

Based on their research, there are six traits that sticky ideas have in common. (It's like discussing the attributes of a great basketball player. You can be pretty sure they have some subset of traits like height, speed, agility, power, and court sense. But you don't need all of these to be great, and having them doesn't guarantee greatness. But if you're going to choose to draft someone, it's best to have as many of these in common as possible.)

Simplicity
Unexpectedness

Surprise helps, but we must generate interest and curiosity

You can keep people's interest over a long period of time by systematically "opening gaps" in their knowledge, and then filling those gaps.

Concreteness

We must explain our ideas in terms of human actions and sensory information.
Images

Credibility

sticky ideas have to carry their own credentials
Reagan asked this question instead of giving out lots of numbers: "Before you vote, ask yourself if you are better off today than you were four years ago."

Emotions

People won't care about our ideas until they feel something. People are wired to feel things for people, not for abstractions.

Stories

Research shows that mentally rehearsing a situation helps us perform better when we encounter it in real life
Hearing stories acts as a kind of mental flight simulator, preparing us to respond more quickly and effectively.

Sadly, the Curse of Knowledge consistently confounds our ability to create ideas using these principles.

It's evidenced by the experiment that a "tapper", who taps out a song, feels like the "listener", who is another person and just has to listen to the taps, should guess the song right 50% of the time, when in reality, they only guess 2.5% of the time!
Thus, it's hard for us to share our knowledge with others because we can't readily re-create our listeners' state of mind.
A CEO who tells team members they must "maximize shareholder value" thinks one thing but the team members think another.

JFK made this statement: "put a man on the moon and return him safely by the end of the decade."

It's Simple, Unexpected, Concrete, Credible (seemed like science fiction but the source was credible), Emotional, and was a Story in itself.
But a CEO would have said "Our mission is to become the international leader in the space industry thru maximum team-centered innovation and strategically targeted aerospace initiatives."

Goal of the book is to improve your creativity and give you a checklist.

Chapter 1: Simple

Strip ideas down to their core, to its most critical essence.

This books says there are two steps to making your ideas sticky:

Find the core
Translate the core using the SUCCESs checklist.

Southwest Airlines Intent, a core, is "We are THE low-fare airline." It guides how they filter their ideas.

Burying the lead – journalists use an inverted pyramid structure – the most important info (the widest part of the pyramid) is at the top

this is a helpful metaphor for finding the core

Remember that if you say three things, you're not saying anything, when it comes to the core.

Uncertainty, even irrelevant uncertainty, can paralyze us.

thus our message needs to be where the choice is obvious to people. So make it as obvious as possible.

Simple messages are core AND compact!

When you say three things, you say nothing, When your remote control has fifty buttons, you can't change the channel anymore.

How to get people to remember your messaging?

You use flags, tapping into the existing memory terrain of your audience, using what's already there.

A schema is a collection of generic properties of a concept or a category.

By a long description, it's hard to tell what a Pomelo is; but if say it's like a super sized grapefruit with a very thick and soft rind, it's easier to picture it and remember it.
So by calling up your grapefruit schema, others can teach you the concept of pomelo much faster than if we had mechanically listed all of the attributes of a pomelo.

Comprehension and memory are both improved

Good teachers start with lots of schemas, like "Let's say that you grow apples and I grow oranges…."

People are tempted to tell you everything, with perfect accuracy, right up front, when they should be giving you just enough info to be useful, then a little more, then a little more.

"maximize shareholder value", although accurate, doesn't help a flight attendant decide whether to serve chicken salad instead of just chicken. But "THE low-fare airline" does.

So analogies make it possible to understand a compact message because they invoke concepts you already know (see above)

The movie Speed could be described as "Die Hard on a bus", which pours a ton of information into those 5 words (you know the type of star to hire, director, budget, when to release, etc.)

Some analogies are so useful they don't merely shed light on a concept, they actually become platforms for novel thinking

They are "generative"; they generate new perceptions, explanations, inventions.
Disney calls their employees "cast members", and this metaphor, or analogy, is communicated consistently, such as cast members don't interview for a job, they audition; jobs are performances; uniforms are costumes.
Thus they help people predict how they should behave in situations not discussed.

Generative Metaphors and Proverbs both derive their power from a clever substitution: they substitute something easy to think about for something difficult.

Coming up with a short compact phrase is easy, but coming up with a profoundly compact phrase is incredibly difficult, but worth the effort.

 Chapter 2: Unexpected

The first problem of communication is getting people's attention.

The most basic way is to break a pattern.

Must understand two essential emotions that are commonly provoked by sticky ideas:

The Great Wall of China is the only man-made structure visible from space!
Conspiracy theories, gossip.

Our schemas are like guessing machines; they help us predict what will happen and how we should make decisions

The Enclave ad of a family in a minivan, then getting broadsided with the message at the end "Didn't see that coming? Buckle up…Always", violated two of our schemas:

Car commercials: they are always happy, fun things. Nobody ever dies.
Real-life neighborhood trip. We take 1000s of these and they almost all end safely.

So when our guessing machines (our schema) fail, we are surprised.

The purpose of surprise is so we can pay attention and repair our guessing machines for the future.

But we must avoid gimmickry; the surprise must be related to our core idea.

Surprise isn't enough; we also need insight, otherwise, we can just end up frustrated.

So to be surprising, an event can't be PRE-dictable; in must be POST-dictable: the twist makes sense after you think about it.

The sixth sense movie's surprise ending, it does make sense after you look back at the clues in the movie; but Dallas's "It was all a dream" didn't at all, and was thus frustrating.

Bottom line: To make our ideas stickier, you must break someone's guessing machine, and then fix it. And the easiest way to avoid gimmickry surprise and ensure that your unexpected ideas produce insight is to make sure you target an aspect of your audience's guessing machines that relate to your core message.

So a good process is:

Identify the central message you need to communicate; find the core.
Figure out what is counter-intuitive about the message, what's unexpected.
Communicate it in a way that breaks the audience's guessing machines along the critical, counterintuitive dimension
Once their guessing machines have failed, help them refine their machines.

Telling stories is a great way to replace or reinforce someone's schema about something.

The value comes from perfect alignment between your goals/values and the content of the story.

Think about how you can give someone's schema a swift kick!

Journalism class was to write the lead on this newspaper story: "Kenneth Peters, principle of Beverly Hills High School, announced today that the entire high school faculty will travel to Sacramento next Thursday for a colloquium in new teaching methods. Among the speakers will be anthropologist Margaret Mead, college president Dr. Robert Maynar Hutchins, and California governor Edmund 'Pat' Brown. The teacher asked them to hand in their lead and they all ended up re-ordering the facts. He then wrote what should be the lead for the story: "There will be no school next Thursday."

Replace numerical facts with percentages, and draw comparisons to things people already are familiar with

Such as we spend only 1% on foreign aid and if everyone gave up one soft drink a month, we could double our country's aid to Africa.

So build interest by first identifying the schema and then breaking it directly.

To keep people's attention, Mysteries are powerful, Robert Cialdini says, because they create a need for closure.

An 'Aha!' experience is much more satisfying when it is preceded by the 'Huh?' experience.

Mystery is not created from an unexpected moment, but from an unexpected journey.

Robert McKee, a screenwriting guru, says "Curiosity" is the intellectual need to answer questions and close open patterns. Story plays to this universal desire by doing the opposite, posing questions and opening situations."

In 1994 George Loewenstein said Curiosity happens when we feel a gap in our knowledge.

Gaps cause pain
We must first OPEN gaps before we CLOSE them.

Our tendency is to tell people the facts, but first they must realize they need these facts.
So first highlight some specific knowledge that they are missing: pose a question or puzzle, point out someone else knows something they don't, present them with situations that have unknown resolutions, challenge them to predict an outcome.

The news-teaser approach can be used with all sorts of ideas in all sorts of contexts

We need to shift our thinking from "What information do I need to convey?" to "What questions do I want my audience to ask?"

But how to overcome people's confidence?

Having them commit to an answer makes people more engaged and more curious about the outcome.

Like taking a survey first

Unexpected ideas, by opening a knowledge gap, tease and flirt.

JFK's a man to the moon and back was unexpected and setup big knowledge gaps, but not SO BIG that it seemed insurmountable, since he didn't say a man on mercury.
The idea must be audacious and provocative, but not paralyzing.

 Chapter 3: Concrete

Concreteness allows a message to persist, like using images – visual is huge for this.

We need more fables.

Convert abstract concepts into something more tangible: 5 landscapes is more more concrete than 2 million acres; V8 is more concrete than high-performance; world-class services is more abstract than a Nordstorm employee ironing a shirt.

Abstraction is the luxury of experts; concreteness helps the novices.

Studies have shown that people are better at remembering concrete, easily visualized nouns, such as bicycle and avocado, versus abstract ones, such as justice or personality.

Sticky ideas are stuffed full of concrete images.

Memory is like velcro; one side has thousands of hooks, the other side has thousands of loops

our brain has a ton of loops, so the more hooks an idea has, the more easily it will get remembered; your childhood home has lots!

We slip so easily into abstraction because the difference between an expert and a novice is the ability to think abstractly: jurors are struck by lawyers' personalities and details and rituals; judge instantly weigh the case against the abstract lessons of past cases and legal precedent.

It can feel unnatural to speak concretely about subject matter we've known intimately for years.

We don't want to "dumb things down"; rather, we want to find a "universal language" that everyone speaks fluently.

I think sometimes the simpleness can be too simple: "build the best passenger airplane" is too simple; you must have some details on this like how far to fly, number of passengers, etc.

Using the senses can help concreteness.

picture a person using your product, and their journey, and create that journey – that will help you coordinate people.

Concreteness creates a shared "turf" on which people can collaborate.

Props work well also.

Great example on page 124. Facts about dehydration and diahreaa killing kids and what could be done versus showing a packet of sugar with a tsp of salt, and say add a liter of water and you can save lives.

Melissa Studzinski, brand manager for Hamburger Helper in 2004: "Now when I've got a decision to make about the brand, I think of the women I met. I wonder what they would do if they were in my shoes. And it's amazing how helpful it is to think that way."

Importance of knowing your ideal client – think like them whenever possible.

Chapter 4: Credible

Authority lends credibility. There are two main kinds:

Experts
Celebrities and Athletes

Because we want to be like them, and if they like something, then we must also.

There is also "Anti-authority".

These have experience and are honest and trustworthy. Like your friend who's seen a movie and recommends it.

Knowledge of details, even if untrue, lends credibility. "It happened right here on highway 61."

Vivid details, especially through examples, boost the credibility of an argument. Like a story about someone in your organization displaying team values.

Statistics are rarely meaningful in and of themselves.

They should almost always be used to illustrate a relationship. People will remember the relationship, not the numbers.
Humanize statistics to give them a bigger wallop.

Consider "Only one in five employees was enthusiastic about their team's and their organization's goals."
Change to "If, say a football team had those numbers, only the running back and wide receiver would care about winning."
This works because our schema of a soccer team is somehow cleaner, more well defined, than our schemas of organizations.
The human "scale" principle allows us to bring our intuition to bear in assessing whether the content of a message is credible.

When it comes to statistics, the best advice is to use them as input, not output; use them to make up your mind on an issue. Don't go looking for the numbers to support yourself – that's asking for temptation and trouble.

The Sinatra test: "If I can make it there, I can make it anywhere." An example passes the Sinatra test when one example alone is enough to establish credibility in a given domain.

If you catered a White House function, you can compete for any catering contract.

Testable credentials – asking customers to test a claim for themselves – can provide enormous credibility boost.

We defer to the audience to provide their own credibility. They essentially try out an idea for themselves. "Which of the following kills more people?"
If you can have your audience "experience" it for themselves, it's much more powerful/credible.

Chapter 5: Emotional

For people to take action, they have to care.

Mother Theresa once said "If I look at the masses, I will never act. If I look at the one, I will."
Once we begin to calculate based on numbers, our emotional reactions are hindered.

On a test, when people were primed by thinking analytically, such as calculating something, then given an emotional story about a starving 7 year old named Rokia, they gave less than people that were not primed with the numbers.

It's not about hitting their emotional buttons, it's about making people care.

We don't have to create emotion; we can just piggy-back on existing emotions.

But if we want people to care, we've got to tap into the things that people care about, like Jim Thompson did with the phrase "Honoring the Game" and thus reducing technical fouls and game ejections.

But realize that if we are tapping into the same things everyone else is tapping into, an arms race emerges.

So we need to shift onto new turf, as Thompson did, or find associations that are distinctive for our ideas.

Another reliable way of making people care is invoking self-interest.

John Caples, who wrote the headline "They Laughed when I Sat Down at the Piano…But When I Started to Play!", says "First and foremost, try to get self-interest into every headline you write. Make your headline suggest to readers that here is something they want."

You can Laugh at Money Worries if You Follow This Simple Plan
Give me 5 Days and I'll Give You a Magnetic Personality…Let me Prove it – Free.
The Secret of How to be Taller
How You Can Improve Your Memory in One Evening

Tangibility, rather than the magnitude, of the benefits makes people care

Get them to easily imagine themselves enjoying the benefits

"Imagine yourself…" "Picture yourself…" "See Yourself…"

In summary, how do we get them to care about our ideas?

Get them to take off their analytical hats
create empathy for specific individuals
show how our ideas are associated with things people already care about
appeal to their self-interest: who they are right now but also to the people they would like to be

Chapter 6: Stories

In the last few chapters we've seen that a credible idea makes people believe, an emotional idea makes people care, and now we'll see that the right stories make people act.

Mentally simulating past events is much more helpful than simulating future outcomes

In a study of college people, those that visualized HOW a problem arose were much more likely to experience a positive mood and take specific action to resolve a problem then those who kept their minds on future outcomes, meaning just visualizing success.

So maybe, instead of visualizing future success, we visualize the steps that led us to where we are currently at.

Mental simulation works because we can't imagine events or sequence without evoking the same modules of the brain that are evoked in real physical activity. When you imagine a flashing light, you activate the visual area of the brain, for example.

Mentally simulating an event helps us think of things that we might otherwise have neglected. Picturing a potential argument with our boss, imagining what she will say, may lead to having the right words available when the time comes.

Mental simulation can also build skills

A review of 35 studies featuring over 3000 participants showed that mental practice alone (sitting quietly, without moving, and picturing yourself performing a task successfully from start to finish) – improves performance significantly.

Mental practice alone produced about 2/3rds of the benefits as actual physical practice!

It's not as good as physical, but it's the next best thing
Stories act for us the same way.

A story is also powerful because it provides the context mission from abstract prose

Like the Velcro theory of memory; the more hooks we put into our ideas, the better they'll stick.

Jared Subway story on the SUCCESs checklist:

Simple – eat subs and lose weight
Unexpected – a guy lost a ton of weight by eating at a fast food chain. It violates our schema of fast food.
Concrete – think of the oversized pants, the massive loss of girth, the diet composed of sandwiches. You can see it.
Credible – anti-authority, the guy who lost all that weight giving us diet advice
Emotional – we care more about an individual, not a mass of people.
Story – our protagonist overcomes big odds to triumph, and inspires the rest of us to do the same.

Jared reminds us that we don't always have to create sticky ideas. Spotting them is often easier and more useful.

How to spot them?

There are three basic plots in stories the authors found in more than 80 percent of the original chicken soup for the soul collection.

The Challenge Plot: like David and Goliath, where the protagonist overcomes a formidable challenge and succeeds.

variations are the underdog story, the rags-to-riches story, the triump of sheer willpower story.
The key element is that the challenge seems daunting, like losing 180 lbs.
They inspire us to act

The Connection Plot: about people who develop a relationship that bridges a gap – racial, class, ethnic, religious, demographic, romance or otherwise.

Like the Good Samaritan, Mean Joe Greene coke, Titanic
They are about our relationships with other people.

The Creativity Plot: involves someone making a mental breakthrough, solving a long standing puzzle, or attacking a problem in an innovative way.

Like the MacGyver plot, apple falling on Newton's head.
They make us want to do something different, to be creative, to experiment with new approaches.

If you're telling a story at the company Christmas party, use the Connection Plot; If it's at a kickoff party for a new project, go with the Challenge plot; If you want to inspire creativity, use the Creativity Plot.

The goal here is to become aware of these plot types so when you hear stories, you file them for proper use later, and we don't need to make stuff up.

Springboard stories tell people about possibilities

When you tell someone direct instead of thru a story, you're hitting them between the eyes, but the problem is most listeners respond by fighting back.

if you make an argument, you're implicitly asking them to evaluate it – to judge, debate, and criticize it.
But with a story, you're getting people involved with you

Springboard stories help people focus on potential solutions, going into a problem-solving mode.

They don't just for the main character, but for ourselves as well.

each person hearing it uses it to go to a slightly destination.

Stories, by themselves, almost always embody the SUCCESs framework

hardest parts are making sure they are simple and they reflect your core message, your agenda

Epilogue

So how do we spot stories that we can use? Maintain a a deeply ingrained sense of the core message you want to communicate.

Like how we might know Dad loves gadgets, when we spot something that might fit in December, our minds will be triggered to notice it. "Dad Gift Glasses"
So we put on our Core Idea Glasses.

You don't have to be a great idea creator; instead, be a great idea spotter.

the world will always produce more ideas than any single individual.

Speaking and Sticking:

In an exercise with students doing a public speaking exercise,

One in ten tells a story
Remembering the speeches, 63 percent remember the stories, but only 5 percent remember any individual statistic presented

There's almost no correlation between "speaking talent" and the ability to make ideas stick.

The stars of stickiness are those who made their case by telling stories, or by tapping into emotion, or by stressing a single point rather than 10.

Villains of stickiness:

Natural tendency to bury the lead, to provide lots of information. When we have access to lots of information, we tend to want to share it all.

Stripping out info is not natural to us at all.

Tendency to focus on the presentation rather than the message.
Decision paralysis – we have to do the hard work of finding the core; a lawyer should stress 1 or 2 points in their closing argument, not 10.

Managers must share proverbs and sayings that help team members wring decisions out of ambiguous situations.

Biggest villain is the curse of knowledge. You know things other don't know and you can't remember what it's like to not know them.

There is a huge disconnect between how much time we train people on getting to the Answer versus how to Train Others.

Finally, the SUCCESs checklist is not hard, but it's neither natural or instinctive: it requires diligence and awareness.

Symptoms and Solutions

Problems getting people to pay attention to a message

Symptom: "No one is listening to me" or "They seem bored – they hear this stuff all the time"
Solution: Surprise them by breaking their guessing machines, telling them something that is uncommon sense (The lead is there will be no school on Thursday).
Symptom: "I lost them halfway thru" or "Their attention was wavering toward the end."
Solution: Create curiosity gaps – tell people just enough for them to realize the piece that's missing from their knowledge. Or create mysteries or puzzles that are slowly talked about over the course of the communication.

Problems getting people to understand and remember

Symptom: "They always nod their heads when I explain it to them, but it never seems to translate into action."
Solution: Make the message simpler and use concrete language. Use what people already know as a way to make your intentions clearer (like Disney's cast member metaphor). Or use concrete, real world examples.
Symptom: "We have these meetings where it seems like everyone is talking past each" or "everyone has such different levels of knowledge that it's tough to teach them"
Solution: Create highly concrete turf where people can apply their knowledge (like the venture capital pitch of the notebook slamming on the table). Have people grapple with specific examples or cases rather than concepts.

Problems getting people to believe you or agree

Symptom: "They're not buying it."
Solution: Find the telling details of your message, and use fewer authorities and more anti-authorities.
Symptom: "They quibble with everything I say" or "I spend all my time arguing with them about this."
Solution: Use a springboard story, switching them into creative mode, and move away from statistics and facts and towards meaningful example. Use an anecdote that passes the Sinatra Test.

Problems getting people to care

Symptom: "They are so apathetic" or "No one seems fired up about this."
Solution: Remember the Mother Theresa effect – people care more about individuals than they do about abstractions. Tell them an inspiriting Challenge plot or Creativity plot story. Tap into their identities such as "Don't Mess with Texas" ads.
Symptom: "The things that use to get people excited just aren't working anymore."
Solution: Get out of Maslow's basement and try appealing to more profound types of self-interest.

Problems getting people to act

Symptom: "Everyone nods their heads and then nothing happens."
Solution: Inspire them with a Challenge plot story or engage them with a springboard story. Mae sure your message is simple and concrete enough to be useful – then turn it into a proverb.