Click the button below to download the audio!
Impactful FLASHPOINT(s) of the Week: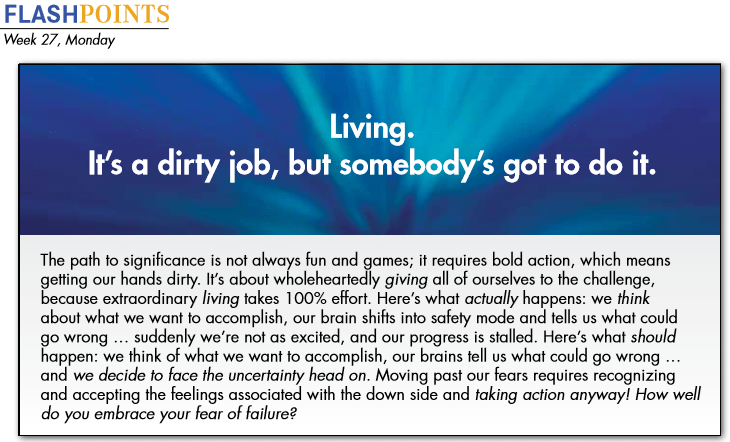 Topics discussed – Ideas:
The FLASHPOINT (s) of the week, which was again Monday's. (This is the 3rd week in a row?)
Larry was interviewed on John Lee Dumas' podcast, Entrepreneur On Fire. It will air on August 8, 2014. We encourage you to check out his site and podcast.
Failure is the ONLY option: fail fast, fail often, do your After Action Reviews.
How do you eat the elephant? One bite at a time – break it down into smaller chunks.
"Courage is being scared to death but saddling up anyway" ~ John Wayne
Learn the process of taking CALCULATED risk.
Feelings of being uncomfortable will never go away – we have to do the action anyway.
Living, not surviving, takes 100% effort – how often to you go through life not giving 100%?
All of life's woes goes back to mediocre performance at some point in our lives.
If you're striving for excellence and the environment around you is mediocre, there's a core value mismatch, and you've got to make a plan to get out.
Tip of the Week – Branding Ladder:
Here are the five levels of branding, discussed in more detail on the call:
5th level (lowest) = Brand Absence. You're not out there at all.
4th level = Brand Awareness. If they don't know about you, they can't buy from you.
3rd level = Brand Preference. But just because you prefer it doesn't mean you'll buy it.
2nd level = Brand Insistence. It means I don't care if it is higher price, that's the one I want.
1st level (highest) = Brand Advocacy. People tell about your brand unsolicited.
Contact us:
Sponsors: